Los Angeles UCLA Turkish Culture Night Music by Anatolia Folk.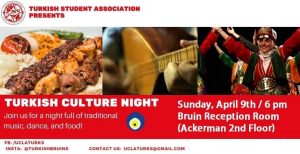 You are all cordially invited to Turkish Culture Night this upcoming Sunday! There will be traditional dance and music performances, a Turkish-themed photo booth, as well as a Turkish coffee stand and LOTS of yummy Turkish food.
We guarantee a good time!
No RSVP necessary, the event is FREE to all and open to everyone!
Make sure to bring friends!!!
Date and Time: Sunday, April 9th, 2017 @6pm at Bruin Reception Room (Ackerman 2nd floor).