May 4/2012
Sacramento – CA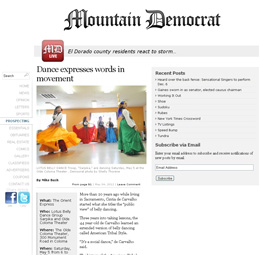 What: The Orient Express
Who: Lotus Belly Dance Group Sarpika and Olde Coloma Theater
Where: The Olde Coloma Theater, 300 Monument Road in Coloma
When: Saturday, May 5 from 6 to 8:30 p.m.
Cost: Tickets are $5 in advance and $7 at the door. Children 12 and under are free
Information: Call Cintia de Carvalho at 530-344-2229 or e-mail lotusdorstudios@hotmail.com
More than 20 years ago while living in Sacramento, Cintia de Carvalho started what she titles the "public view" of belly dancing.
Three years into taking lessons, the 44 year-old de Carvalho learned an extended version of belly dancing called American Tribal Style.
"It's a social dance," de Carvalho said.
The history of the American Tribal Style was founded toward the end of the 1980s by internationally known belly dancer Carolena Nericcio.
De Carvalho became "intrigued" by the mixture of dances.
"It's not one dance from one country," explained de Carvalho.
Words unsaid
The dances are beautiful expressions of words unsaid, de Carvalho feels. The dances are usually performed as a group and at community events such as festivals and parades.
Clothing for the dancers are wide-legged pants gathered at the ankles that are known as pantaloons and the tops are known as cholis and then there are full skirts, de Carvalho explained.
De Carvalho and five El Dorado County women are part of the Lotus Belly Dance group called "Sarpika."
In a joint effort with the Olde Coloma Theater, the dancers will be presenting their second installment of "The Orient Express," a name that the group came up with. The show will be at the Olde Coloma Theater.
The other women performing are El Dorado County residents Lauren Williams, 18; Cindy Dvoracek, 50; Beatriz Ortiz, 35; Karen Trowbridge, 56; Marnie Doyle, 44 and Jean Vrechek, 43.
The women rehearse every Tuesday and Saturday at de Carvalho's dance studio at River Park Village.
High energy and vibrant
"I just love the style and the environment," said Williams, who has been dancing for the last three years. "It is so high energy and vibrant. This type of dancing has a lot of emotion in it, both from sadness to joy. Everyone here is so talented."
Williams serves as a liaison between the group and the theater; she is one of the actresses at the theater. She feels the combination of dancing includes theatrical communication that enlightens people who enjoy watching Middle Eastern and belly dances.
"I see it as a very good chance to combine efforts to produce art for the community," Williams said.
Williams plans to study dance and music in college. She is a recent high school  graduate.
Performance days and times
The performances will be Saturday, May 5 from 6 to 8:30 p.m. at the Olde Coloma Theater. Doors open at 5 p.m.
The theater is located at 300 Monument Road in Coloma.Tickets are $5 in advance and $7 at the door the night of the show. Children 12 and under are free.
Refreshments, snacks and hors d'oeuvre will be available. Vendors at the event will be selling various Turkish imports, as well as arts and crafts from Turkey.
Turkish dancer and musician, Vedat, will be teaching workshops on Saturday and Sunday. He will also be performing to Turkish music.
To purchase tickets or for additional information contact de Carvalho at 530-344-2229 or e-mail lotusdorstudios@hotmail.com.
Contact Mike Bush at 530-344-5079 or mbush@mtdemocrat.net. Follow @MBushMtDemo on Twitter.